Randy Siegel's Latest Book
The Inspired Life:
How Connection and Contribution Create Power, Passion, and Joy
Coming Soon!
In this remarkable book Randy Siegel, renowned life trainer and coach, applies 'connection' and 'contribution' to the burning questions presented by our extraordinary age: Who am I now? Where do I fit? Where do I go from here? Siegel says we are in the midst of a "Great Values Shift" from materialism to meaning. We can experience this cosmic spike upwards either as threatening or as a shining opportunity to have an inspired life. . .This is a practical, down-to-earth manual on how to live a heavenly life in these seismically shifting times—and make a positive impact in the world as we go.
Joseph Dispenza, author of The Way of the Traveler and
God on Your Own: Finding a Spiritual Path Outside Religion
Within many of us is a nagging feeling that we're not quite living up to our potential, that something is missing from our lives. In this groundbreaking book, Siegel shows you how two words—both beginning with the letter "c"—will help you become your best self and live your best life.
By sharing stories and offering practical "how to" advice, Randy will help you align your life with those values most important to you so that you can:
Bring more meaning to your work and life.
Forge stronger and deeper relationships.
Live the life you were born to live.
Other books by Randy to help you become your
best self and live your best life...
---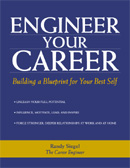 Engineer Your Career:
Building a Blueprint for Your Best Self
Only $19.95
Imagine going through the best experience you've ever had in training-that's what Randy Siegel offers. Engineer Your Career blends the best of leadership skills and grounds them in personal values. It will inspire you to change your life and uplift the world around you.
Bud Harris, PhD,


Jungian analyst and author

Maybe you're ready to:
Take your career to the next level and maximize your earning potential.
Change careers or start your own business.
Seek more meaning in your work and life.
Forge stronger connections in your professional and personal life.
If so, this is the book for you. By reading and working the exercises here, you can expect to:
Increase your self-esteem by becoming more self-accepting.
Discover your life's purpose and live your life with purpose.
Develop your own personal brand and use it to distinguish yourself.
Become more charismatic by enhancing your likeability, credibility, and authority.
Sound too good to be true? It isn't. Hundreds of Randy's clients have benefited from this process. One client, a forty-two-year-old male CEO of a large corporation, recently wrote,
This work is amazing. I followed your advice and the results and sense of power are incredible. I now love my life and my work.
---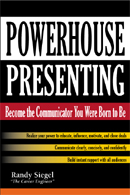 PowerHouse Presenting:
Become the Communicator You Were
Born to Be
Only $19.95
"In less time than it takes to read this book, I can help you fast-track your career," promises executive communications trainer and coach Randy Siegel.
Experts agree: strong interpersonal skills catapult careers, and few interpersonal skills are more important than our ability to present effectively.
You will learn how to:
Engage almost any audience.
Structure your presentation to ensure buy-in throughout.
Increase your comfort level while presenting.
Increase your likeability, credibility, and authority, the three hallmarks of all great presenters.
Here's what past workshop participants have written about PowerHouse Presenting:
Thank you for showing me how to connect with my audience. Even when really difficult topics are on the table, I now know how to maintain control.
You are amazing. I followed your advice and the results and sense of power are incredible.
Your work is more than about communication; it is about life issues, growth, awareness, and openness. It's powerful stuff, and your ability to communicate it and share your life is inspiring.